I am a beach lover..Beaches always attracts me more than anything else in nature.So whenever we plan for a holiday, I always prefer beaches.When I was in seventh standard, I remember, we went to visit Puri, a beautiful sea beach in Orrissa, India and that was my first experience to imbibe the beauty of a ocean. After that I visited Puri twice and every time I fall in love with it for different reasons.
The mysterious occult line between the sea and sky, is top-drawer attraction for me.
In last three years, I got several opportunities to visit some of the beautiful beaches .Beaches of Mauritius, Goa, Andaman Island, Marina Beach, Pondichery are some of them.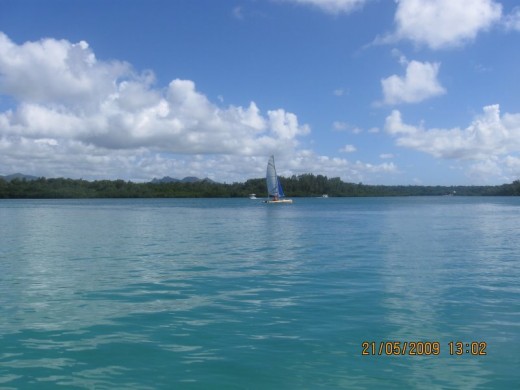 Mauritius
In year of 2009, We came to Mauritius for our Honeymoon."Mauritius", when I heard this name as our honeymoon destination from my husband, I was very excited because I had only heard about this location in popular media. When it came to realization and we were finally planning our HONEYMOON at Mauritius, it was really soothing experience.The place is a heaven piece and perfect for honeymoon couples.It will uplift your soul and making you feel that you belong to the chosen few.It is a small country with scenic beauty all over.The island of Mauritius is 65 km long and 45 km wide and situated in south east coast of Africa, where tourists used to come for hiking around the world.
.The main attraction of Mauritius is clear and multi coloured water of Indian Ocean.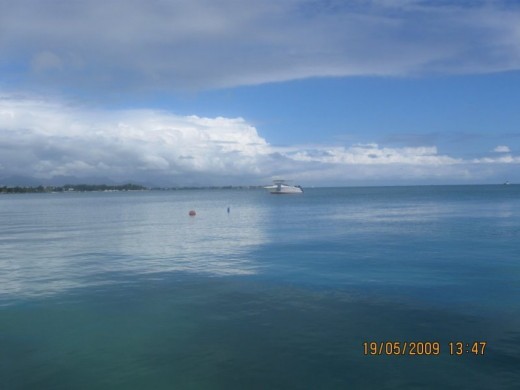 We landed to Mauritius Airport (Sir Seewoosagur Ramgoolam International Airport,the home of the national airline, Air Mauritius.).The aerial view of Mauritius from our flight was amazing. There were nothing but water,and in the middle, there was a tiny island. This type of picturesque scene can only exist in imagination.
When we reached there, all of sudden , we were scared of loneliness (due to very small population compare to India ).From airport, it took about one hour to reach our resort "Villas Mont Choisy" .The airport and the sea beaches (our resort also) were in opposite corner of Mauritius which gave us the opportunity to have the glance of beautiful island while travelling from airport to our resort. The distance between the Resort and Airport is 60 Kms. So one can guess, dimension of the country.Our resort was near "Mont Choisy Public Beach".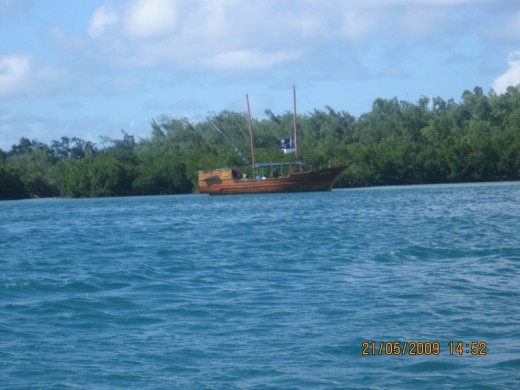 Mont Choisy Public Beach is the one of the popular beach in north west of Mauritius.The beach stretches along a small forest of filao trees.The beach is long, lonely and beautifully located in bay of Indian Ocean.The water is so clear and blue that one can't resist to take a plunge.It is popular for picnic spot.The sand is white clean and full of coral pieces.I also collected some piece of them to form a "tree structure" in the memory of ours.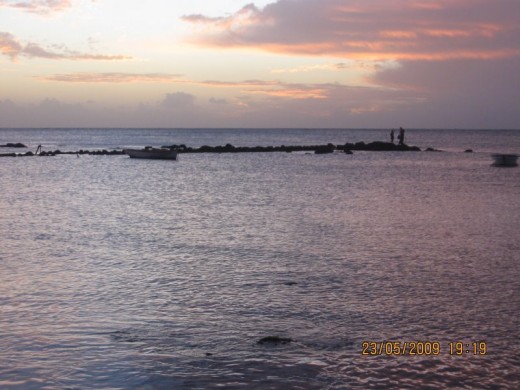 The sunset view was also breathtaking.I can remember, different types of goddess sculptures were there, near the beach area and these attracted the foreigners most.The location was not safe after evening, as our watchman told us.So mostly we return villa after the sunset and relished the breezy weather.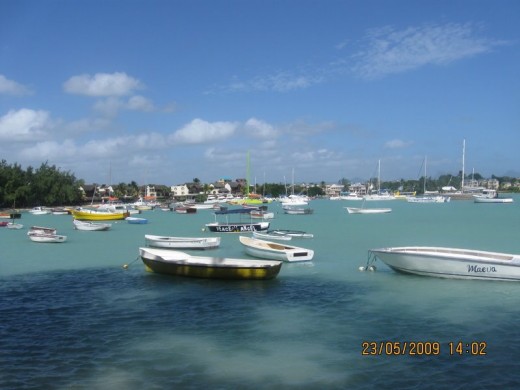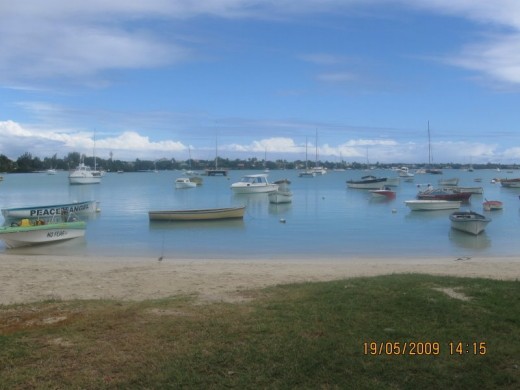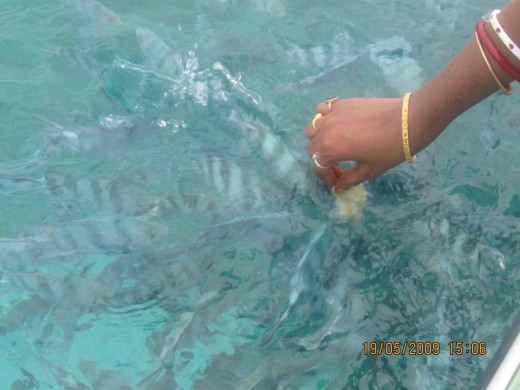 The next beach we visited Grand Bay.The distance between Grandbay and Mont Choisy beach is 1.96 km by road.We travel towards Garnd Bay by boat and it took 15-20 mins.The journey by a private speed boat was amazing.We spend some time there and on our return journey we travel towards deep sea to see fishes. We were fortunate to see variety of attractive sea fishes. We had given some pieces of bread by travel guide to feed and attract the fishes. It was a great experience to watch the agility of the tiny fishes.Grand Bay is the most popular locality and largest beach located in north Mauritius.
The beach is safe for swimming, water sports, sea fishing and also flim shooting.Our travel guide showed us so many Indian film shooting spot as well.Nice organized city with large choice of fashion and craft shops, hotels attract tourist mostly for this beach location.As I told, Mont Choisy is not safe at night and in the same time Grand Bay is also popular and known for its night life as it emcees most of the island best bars and night clubs.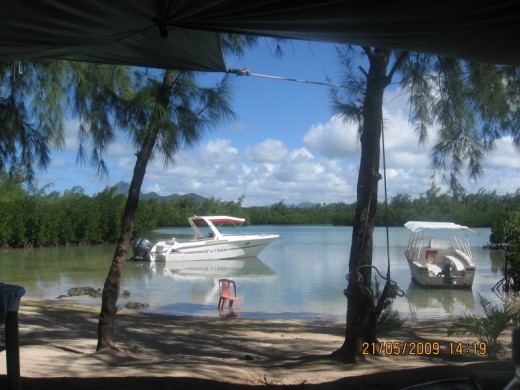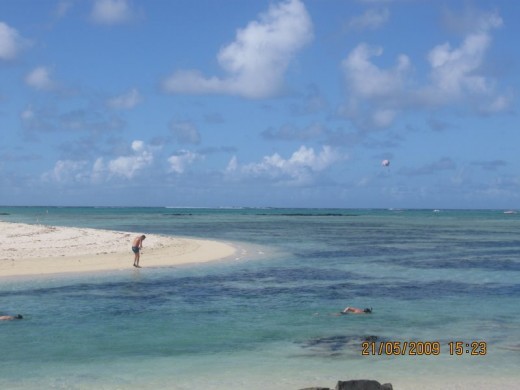 The most favorite beach of mine in Mauritius is Ile-Aux-Cerfs beach.I never seen such a beautiful beach and awesome location till date.When we reached there, I felt that it too heavenly to believe.One cannot afford to miss this small island, delicately poised on the ocean, a real pearl in the Mauritian landscape. I think 'Ile aux' is the best location in Mauritius. I felt that my dream comes true. I can't express the feelings in words. We booked tourist bus from our resort and it took around one and half hours to reach there.
The beach is easily accessible by boat and for this reason it is called Cerfs (island paradise).This beach is located in the east coast of Mauritius.This beach is unforgettable and one can get in some great snorkeling here.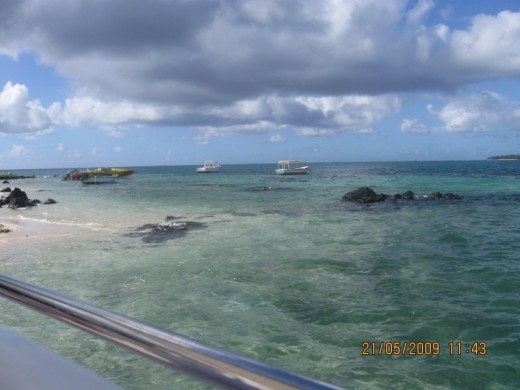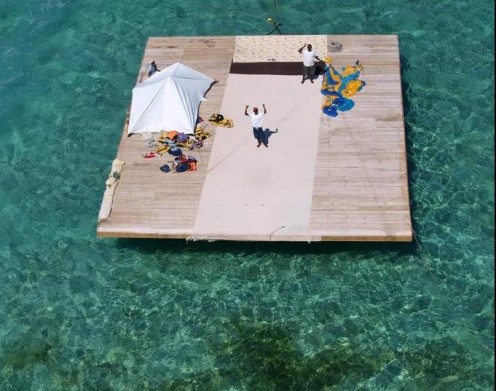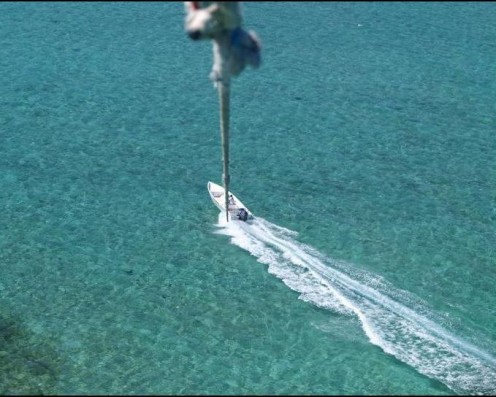 We spend whole day at this beach. It has all facilities like resturant, golf course, water sports and para-sailing.Our para sailing experience was awesome.We, the two people afraid of heights,attempted something outside of our comfort zone. There was a platform in middle of sea ( local boats can be hired to reach there), where we found a wooden platform as a launching pad. and the location is hundred percent perfect for para-sailing.
Ile-Aux-Cerfs is the beach where you can notice the three different color of Indian Ocean so easily.Try some of the local cuisine and I must say that they were interesting. At lunch time, our travel guide arranged local music for us. We didn't understand the language but we enjoyed it very much.
Also, try boat ride for near waterfall area, because if you don't , you will miss something dangerous but splendid beauty.The boating experience was horribly nice. Because we experienced the taste of near heart attack, when the speed boat was running like jet in a deep middle sea. It was amazing and trilling experience.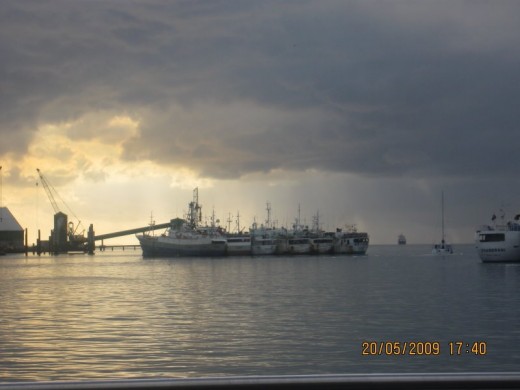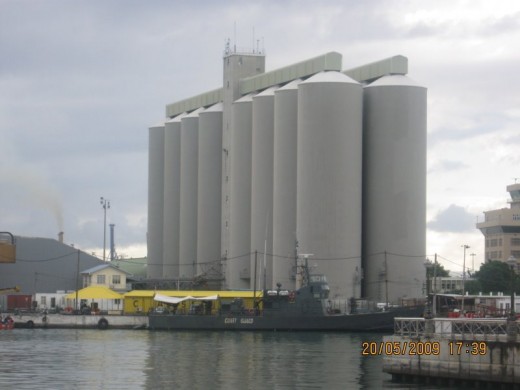 The last day, we went to visit Port Louis.The Port Louis is the capital of Mauritius and situated in north western coast of Mauritius.It is the main port of the country. This city is the commercial and administritive center of the country.the main attraction is the central market, Silos of Les Moulins de la Concorde, Jummah-Mosque, Chinatown ,St.- Louis-Cathedral etc.The sunset view at the main port is worthy of notice.