Chicken is my all time favorite and I prefer to try different types of chicken dishes.Dhania (coriander) Chicken is one of my favorite one.Whenever I think of something spicy delicious chicken dish, it comes to my mind.From the name of the dish, one can guess that the main ingredient is coriander.The main time taken by the dish is marination of the chicken, otherwise the cook time is very little.
So lets try it….
Cook Time
Prep time: 45 min
Cook time: 10 min
Ready in: 55 min
Yields: 2-3 persons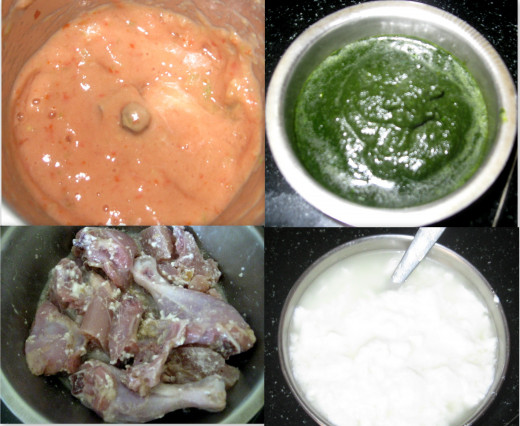 Ingredients
500gm Chicken
2 Onion, Chopped
One big bunch Coriander
1 Tomato, Paste
One table spoon Ginger garlic paste
one cube Ginger
5 Green Chilis
One tea spoon curd
One tea spoon red chili powder
One tea spoon Lime juice
As per taste Salt and Sugar
4-5 spoon Sunflower Oil
Instructions
Marinate the chicken with salt ,curd ,ginger garlic paste and lime juice.Keep it aside for 30-45 mint.
Make paste of tomato and ginger cube.Keep aside
Make paste of coriander bunch with the green chilies.Keep aside
Put oil in pan and add the chopped onions. Fry till golden brown.
Add tomato ginger paste and cook till oil separate.
Add the red chili powder and cook for 2 mins.
Add the marinated chicken and stir properly to mix with all ingredients.
Cook with a lead till the chicken tender.
Add coriander paste and mix well.Cook it for another 5-7mins
Serve hot with any kind of rice.
Health Benefits of Coriander Chicken
Nutrition Facts
Serving size: 150gm
Calories
184
Calories from Fat
27
% Daily Value *
Fat 3 g
5%
Carbohydrates 16 g
5%
Fiber 1 g
4%
Protein 43 g
86%
Dishes preferred with Dhania Chiken
I specially prefer some kind of spicy rice.This dish is just too good with Egg Chicken Masala Rice.Besides you can try this with plain steam rice/ jeera rice, Romali Roti.